Downloads
Sjmf (demo, Java for Windows)
Sjmf is the only existing solution for the Java Media Framework (JMF) aimed at video conferencing that also supports standard file formats.
This JMF plugin provides native H.263, H.263+, 3GPP, MPEG-2 and MPEG-4 codecs, that an independent research lab described as
"superior in picture quality, while using less bandwidth than competing software from Microsoft© (Messenger 6.2) and RADVision© (eConf 5.3.1e)".
To proceed and download the software:

SVoIP (demo, Windows)
SVoIP is our pioneering H.263+, MPEG-4 and 3GPP capable VoIP client that seeded further advancement in video conferencing technologies, now an integral part of our current Smeet SDK, Smeet and Sjmf products.
This application interoperate with Microsoft© NetMeeting and equipment from all major manufacturers (e.g. Polycom, RADVision, Tandberg).
Here follows some snapshots (click on the reduced images to view the real-sized version).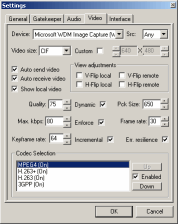 Video properties
To proceed and download the software: